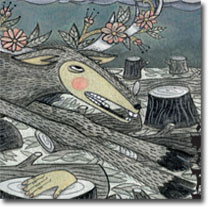 track listing
1. Toggle
2. My Lil'
3. Toss You To The Wolves
4. Eyebone MP3
5. Elk Takes Night
6. When I'm A Ghost
7. <*>
8. Baby Liver
9. Cuddles
10. Who Knew?

The eponymous debut from Portland, Oregon's BLACK ELK is a raging destructo rock eruption, heavy, catchy, and flattening. This ten song album contains a creeped out conglom of carnivorous charred hardcore punk, the sludgy power of primo Pacific Northwest tarpit rawk (think KARP, MELVINS, and early SOUNDGARDEN as reference points), twitchy Midwestern noise rage somewhere between Am Rep Records (circa-1991) and a more rabid DIE KREUZEN, and a goatheaded psychedelic backwoods black mass/dance party risen to a freakin' fever pitch. Total crush. Produced by Mike Lastra at Smegma Studios (EARTH, THRONES, JACKIE O MOTHERFUCKER).
REVIEW FROM STYLUS MAGAZINE: hey don't make rock like this anymore. Portland, Oregon's Black Elk harkens back to noise rock's early '90s heyday, when Amphetamine Reptile and Touch and Go reigned supreme. The Melvins, Black Flag, and early Soundgarden all have a furry hand in this quartet's distorted rumblings. Tom Glose's crazed vocals, too, recall unhinged frontmen like The Jesus Lizard's David Yow and Circus Lupus' Chris Thomson. This is nasty stuff, and it's refreshing in an era that mistakes mildness for maturity. To best experience Black Elk, bring beers, earplugs, and contraceptives. This debut makes an immediate impression with its raw, vicious sound. The production would make Steve Albini jealous. The guitars are huge and hairy, dripping with midrange and electricity, while the drums sound natural and escape today's typical over-compression; one hears the crack of snares and the metal of cymbals. Tempos push and pull, the band moving as a unit yet hanging loose enough for grooves to breathe. The pummeling grooves here feel like shoulder blocks, but it's not all rushes up the middle. In fact, these songs are incredibly detailed. The guitars often drop back to Neil Young-esque ragged strumming, controlled feedback, and the occasional acoustic picking. Adding brain to brawn is the frequent use of dissonant, jangly figures. Most of "Toggle" is bruising and quasi-metallic, but it gives way to eerie, pulsing notes, the sonic equivalent of glowing coals. "Toss You to the Wolves" modulates these chimes from hell up and down, leading into tart palm-muting; imagine Duane Denison gone black metal. The song then earns its title with savage two-note tenderizing and clawing, scraping high-end. Similarly feral is "Elk Takes Night," which opens with seasick riffs that sound like slime dripping from the ceiling. Grumbling tremolo picking and abrasive pick squeals follow. "Cuddles" is aural rough sex, with a demented "Hey, ho" chant that would scare the Ramones out of their Chuck Taylors. "Who Knew?" carves deep, earthy grooves amid swirling mists of feedback. With throbbing basslines and scratchy singing, it's the bastard cousin of Jane's Addiction's "Mountain Song." At its end, it downshifts to a primal, pounding 5/4 that should yield new children next fall. "Baby Liver" puts it well: "I got nothin' on you / You got nothin' on me / Why don't we just drink." As I said before—beers, earplugs, and contraceptives.