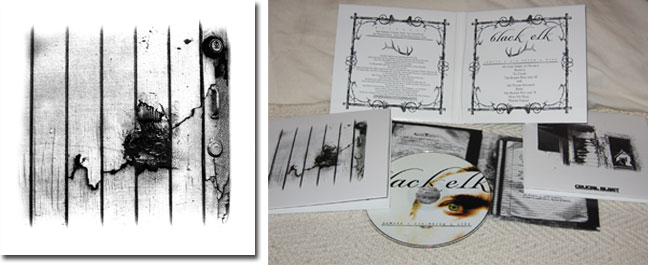 BLACK ELK Always A Six, Never A Nine CD
CBR70
$9.98


AUDIO SAMPLES:
Track 1: My Last Shred of Decency ::MP3 ::
Track 2: Hospital ::MP3 ::
Track 3: Pig Crazy
Track 4: The Brazen Bull III
Track 5: stab
Track 6: She Pulled Machete ::MP3 ::
Track 7: Brine
Track 8: The Brazen Bull II
Track 9: Hold My Head
Track 10: Winter Formal

Black Elk's eponymous 2006 debut on Crucial Blast was a ferocious rush of ultra-heavy, jagged noise rock with a penchant for creating moments of lethal build-and-release, some wonderfully malevolent riffage with a massive, bottom-heavy undertow, and creepy, often disturbing lyrics delivered via the wailing, yowling throat of singer Tom Glose. Glose's singing has often invoked comparisons to that of David Yow from Jesus Lizard, and Black Elk do seem to channel the demented power of the Chicago noise rock legends alongside their other influences (sludge metal, late 90's math-damaged hardcore, even hints of black metal, etc.), taking their influences and filtering them through their super-heavy metallic filter. If you were a big fan of that whole Am Rep/Touch And Go/noise rock scene from back in the 90's, and like yer gnarly rock crushing and psychotic sounding, you'd probably fall in love with Black Elk the first time you heard 'em.
Here we are two years later after the released of that killer debut, and we're totally knocked flat by Black Elk's second album Always A Six, Never A Nine. If you liked their first album, I'll bet my lunch that this new one will blow you away. From the suggestive album title and Tom Glose's deeply weird lyrics to the ten songs of aggro wreckage and crushing, noise-rock influenced heaviosity, this goddamn album is one the raddest post-Am Rep exercises in riff-induced panic, molten rock and menacing bad-assery sitting in my stereo pile right now. That metallic Jesus Lizard/Melvins influenced sound that their first album delivered - the jagged, angular riffs and math-deformed rhythms slithering through delirious night sweats and paranoia - has been further developed into a set of songs that altogether border on the epic. And Tom's singing is even more crazed and freaked-out sounding than before. Which is saying alot. The band has also begun to incorporate some atmospheric elements like flourishes of piano, layered ambience, and, um, some rather "blackened" guitar moves that add some deep new shadows to Black Elk's fearsome set, and at the same time, the band has written their catchiest music so far for Never A Six..., with some fantastic, jangly melodic hooks surfacing in the midst of songs like "Brine" and "Winter Formal".
This CD is packaged in a deluxe Stoughton gatefold jacket that includes an eight-panel insert with lyrics and artwork.
REVIEW FROM STONERROCK.COM: Black Elk's sophomore outing on Maryland wild-metal/punk/prog label Crucial Blast delivers a tense, powerful and soulfully executed set of songs rooted in nineties Amrep/Lizard noise rock scuzz. The Glose/Trammell/Capuano triumvarate has recently seen the addition of ex-Icarus Line drummer (and not Night Ranger guitarist) Jeff Watson, and what was already a powerful set of players now has a Mcneally/Sims s t y l e precision and power. Glose's lyrics range from self destructive ponderings to what I think's a song about a mermaid... All of it has a wonderfully present, confrontational and loud-but-okay-with-space feel that makes this group totally in their element. The Stoughton packaging's winning too! The JL comparisons are starting to wear thin, and the vibe's got a much more west coast feel, more punk, less machine. All fucking excellent.