NAVIGATE THROUGH CRUCIALBLAST.NET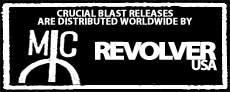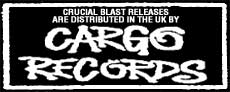 click on the images to enlarge
MORS SONAT Comforts In Atrocity CD DIGIPACK
CBR92
$9.99

Though the name may be new, those who explore the more terrifying sounds found at the intersection where black metal, industrial noise, power electronics and black ambience meet surely know the minds behind this collaboration. Featuring Mories (of Gnaw Their Tongues / Aderlating / Cloak Of Altering / De Magia Veterum infamy) and Australian black noise/metal technician Nekrasov, Mors Sonat sounds little like their other projects, crafting a cold, hallucinatory strain of aural dread that draws from a strange mixture of twilight chamber music, ghastly death industrial sounds, harsh electronic noise and gleaming dark ambient, while tapping into the sort of psychic unease and violent chaos that will be familiar to fans of their previous efforts.

It's definitely a much more atmospheric and often subdued sonic terrain that Mors Sonat explores on 'Comforts In Atrocity'. Across the six long tracks, they blend together darkly gorgeous chamber music sounds (aided by guest cellist Aaron Martin,) with blasts of excoriating black noise, pools of cloudy dark ambience, clanking industrial horror, and vicious bouts of power electronics-style abuse. From the creaking crypt ambience that starts off opener "Holy Holy Holy Nil" that later give way to the gorgeous cello drones, shimmering orchestral strings and smeared horns that coalesce throughout the track, Mors Sonat lays down a highly evocative mix of layered electronic noise and atmospheric sound that slowly builds into walls of howling chaos, something that repeatedly rears its head throughout the album. The rest of 'Comforts' ventures into strange, hallucinatory shadowscapes like "Sanctuary In Soil", where monstrous death-gasps drift over a rumbling black abyss seething with the distant tremors of grinding infernal machinery, and the intoxicating dark drift of the title track where the duo delves into a vast expanse of crepuscular drift and cinematic electronics bathed in the residual glow from a dying sun. On "The Sweet Long Legs Of Hate", this sort of minimal soundscapery reappears as a vast windswept blackness interweaved with eerie background sounds and strains of desolate piano, forming into something akin to a stark, sun-bleached horror film score.

But then there are the nods to classic power electronics and death industrial that are threaded through several of these tracks. On "The Vengeance Of Embrace", spectral hissing voices are surrounded by diseased, pulsating electronic drones and corrosive signals that give this an evil, almost Atrax Morgue-esque feel. And the final track (which bears the very Gnaw Their Tongues-like title 'So shall I weep in liberation within the ecstasy of decay') closes the disc with a vicious maelstrom of howling electronic violence that convulses with harsh demonic shrieks and coruscating waveforms, a rabid snarling chaos fused to extreme feedback manipulation and crushing metallic noise.

Fans of the shambling chthonic evil of Mories' other projects and Nekrasov's black-hole visions will find some of these elements in Mors Sonat's sound, but it's tempered by the use of haunting chamber strings, ritualistic ambience and experimental electronics, diffused into a kind of grim otherworldly soundscape all its own. Recommended to fans of everything from Funerary Call and Nordvargr's blackened electronics, Shinjuku Thief's 'Witch Trilogy', and Cold Meat-style death industrial, the Cd edition presented in a six panel digipack.

Click here to hear to listen to MORS SONAT's Comforts In Atrocity and order the digital album









click on the images to enlarge
ROTORVATOR I Vivi E I Morti CD + ARTCARD SET
BLAZE019
$9.99

I Vivi E I Morti is the debut album from Italian void-gazers Rotorvator, a seven-song blast of blackened electronics, pounding industrial rhythms, deformed black metal and punishing abstract noise issued through Crucial Blast's Crucial Blaze series. The band's unique strain of blackened industrial metal was first forged through a series of super-limited tapes and Cd-rs that were released on obscure, noise-friendly Italian labels like Dokuro; although Rotorvator's early works emerged out of the noise/drone underground, their music is unmistakably rooted in black metal, with blistering vocals, blasting tempos and eerily dissonant riffing all woven into their strange mechanical music, a unique sound that shifts between moments of mutant majesty and vicious chaos throughout this album.

Beginning with the pneumatic industrial rhythms, icy black metal guitars and gothic synthesizers diffused into wavering clouds of nebulous electronics on opener "Ad Sanctos", Rotorvator begins its descent into angular, blasting violence; the mechanical percussive sound that takes shape gives this a rigid, relentless attack that suggests the influence of early mecha-BM pioneers Mysticum and Dødheimsgard, even as the song slips into murky, tectonic breakbeats in its final moments. Then there's tracks like "Domenica", where the black metal elements are consumed into a strange, mutated industrial sound, shuffling breakbeats and eerie electronic ambience wrapping themselves around those ragged, utterly psychotic vocals and creeping minor key guitars, the shambling, sinister music suddenly erupting into masses of seething noise; and the bleak, droning crush of "In Limine", which fuses some brooding, slo-mo bass-thud layered with sheets of corrosive noise with fractured drum loops, swells of dramatic synthesizer drift, and a swirling fog of scathing screams and haunting distant vocals. Elsewhere on I Vivi E I Morti, Rotorvator wanders through stretches of dreamlike gothic trip-hop ("L'Eternita") and militant mechanical black metal ("I Morti"), the songs arranged chaotically as swarming black metal riffs suddenly collide with jagged, lurching rhythms, waves of stirring synthesizer drift combine with blasts of fractured, electronic doom, and corrosive noise rains down on shuffling hypnotic drum machines, eventually closing with the hallucinatory black majesty of "Humming Bones" where streaks of warped synth-pop flare out from the pounding tribal rhythms and malevolent riffing.

The disturbed apocalyptic electronics and blackened violence of Rotorvator's music is altogether too demented to simply be described as another industrial black metal outfit, drawing heavily from a mixture of industrial/electronic sounds to produce something more aligned with the likes of cult Swedish black industrialists Mz.412 and the malformed likes of Ivs Primae Noctis, Murmuüre, Gnaw Their Tongues and Utarm. Released as part of the Crucial Blaze series, I Vivi E I Morti comes in a Dvd-style case with a set of ten warped collage pieces created by the band, bound together in a black obi, the set produced in a limited hand-numbered edition of four hundred copies.

Click here to hear to listen to ROTORVATOR's I Vivi E I Morti and order the digital album








click on the images to enlarge
ACTUARY The Reality Is The Dream Is Dead CD + ART ZINE
BLAZE022
$9.99

Since forming late in the latter half of the past decade, the California-based extreme noise outfit Actuary has been steadily cranking out a stream of split releases that saw them sharing wax (or other petroleum-based substances) with everyone from Merzbow, Bastard Noise and Gnaw Their Tongues side-project Aderlating to cult underground noise spewers like Winters In Osaka, Bacteria Cult, Juhyo and Fetus Eaters. Keeping up with their prolific output has been a daunting task, but also a rewarding one, as Actuary has been pretty consistent in quality, offering epic-length blasts of abstract electronic chaos, extreme psychedelic circuit-fuckery and monstrous synth abuse with each new release that are primed for some serious sonic skull-melt.

On their first real full-length Cd 'The Reality Is, The Dream Is Dead', Actuary returns to present us with four new tracks of intense noise that covers all of the different aspects of their sound. The opener 'Spiritual Armageddon' sends spasms of squelchy electronic carnage through a massive rumbling dronescape, evoking visions of high-end robotics in the throes of mass suicide in the bowels of some subterranean forge, interspersing the blasts of crazed glitchery and hyper-speed tape-vomit with passages of dark, reverberating factory ambience. 'Heat Of Eternal Punishment' blends together scraping metallic tones and textures with more of that violently spastic sine wave manipulation and sputtering distortion, later shifting into fields of fearsome industrial soundscaping and layered, processed samples that ratchet up the panic level to nearly unbearable heights. Corrosive buzz saw drones flutter and fluctuate across the 'Pool Of Perpetual Torment', building into crushing waves of percussive industrial pummel, malfunctioning engine roar and mangled electronics. And on the final track 'Baptized In Flames', the band works up a smoldering, apocalyptic noisescape infested with the sounds of clanking metal chains, pulsating distorted synths, and the howling of mutant cetaceans, and by the end of the album has transformed into something resembling an entire megalopolis being consumed in a hell of nuclear fire.

The malevolent, psychedelic electronics that Actuary exudes across 'Reality' takes the sort of brutal cyborg chaos found in the likes of Bastard Noise and Government Alpha, and drenches it in a heavy coating of dextromethorphan delirium, making for some of their heaviest noise so far. Released in a limited, hand-numbered edition of two hundred copies as part of the 'Crucial Blaze' series, 'The Reality Is The Dream Is Dead' also features a thirty-two page art zine assembled by the band, filled with strange, surrealistic artwork from members of the band as well as contributions from FetusK, Mories (Gnaw Their Tongues), Chris Dodge (Spazz), Jay Randall (Agoraphobic Nosebleed) and more...

Click here to hear to listen to ACTUARY's The Reality Is The Dream Is Dead and order the digital album

Iron Forest's Body Horror is the second full-length release from this new project from Midwestern industrial/experimental artist Brandon Elkins. Some might know Elkins from his previous project A Crown Of Amaranth, who released an excellent album of dark, futuristic heaviness and black-hole ambience on our own Crucial Bliss series in 2005 as well as a short-lived collaboration called A Crown Of Light that had one album out on Italy's Eibon Records. It had been a while since I had heard anything from Elkins, but within the past year he re-emerged with a brand new outfit called Iron Forest that instantly hooked me with its super-heavy industrial rhythms, mutated drone/dub experiments, and doom metal influenced riffcrush. The band released another disc earlier in 2012 on Paradigms called Pantechnicon that was issued in an extremely limited run; this follow-up Body Horror comes via our Crucial Blaze series and features the new album of music accompanied by a set of collage prints depicting various biological hallucinations that were all created by Elkins for this release.
The eight songs on Body Horror are forged from gleaming metallic drones, glitchy electronica and vast clouds of interstellar synthesizer that wind around fractured doom-laden riffs, rife with the sort of apocalyptic atmosphere that Godflesh exuded from their more experimental albums. Justin Broadrick's pioneering industrial metal is one obvious influence on Iron Forest's sound, though here the crushing guitars and solemn ambience are cracked and broken into strange splatters of percussive noise and dissonant dronescapes that evoke an altogether more warped vision of industrialized doom-tronics. The music is varied, ranging from the bizarre but ultra fuckin' heavy robotic dub-sludge of "Rust And Decay", "Prognosis" and "Mountain Of Teeth" (where blackened doom metal meets a hellish variation of Scorn's dystopian beatcrush), to the orchestral majesty and skittering percussion of "The Divide" and the abstract, bitcrunched rhythms of "Dead Batteries". Elkins abuses a bunch of dubstep tropes (the blown out speaker rattling bass tones, the vicious synthesizers, the fragmented rhythms), but what comes out doesn't sound like dubstep at all. There's hardly anything here that a sane person would consider "danceable". It's more of a chaotic, noise-damaged, dub-infested version of Skin Chamber's industrial metal, if that band had been obsessed with the experimental glitchery of Autechre. Combine that with Body Horror's obsession with Cronenbergian themes (mutation, deformity, etc), and you get a pitch-black brand of mechanized dread that wallows in a similar cyborg plasma-pool as bands like Wreck And Reference, Cloaks, Necro Deathmort, The Blood Of Heroes, and Author & Punisher.
Released in a limited edition of four hundred hand-numbered copies, the Body Horror Cd comes in Crucial Blaze's signature clear dvd-style case with an insert card and a black folio (with black printing) that holds a set of gorgeously grotesque full color collage prints.

Click here for more details / streaming audio / ordering for this release: IRON FOREST Body Horror CD + ART CARD SET

Click here to hear to listen to IRON FOREST's Body Horror and order the digital album


When I was first introduced to the entity known as Stalaggh a few years ago, the Dutch blacknoise maniacs crawled under my skin immediately. Couldn't really come up with a precedent for what they were doing, taking recordings of the screams and wails of mental patients and layering them against a fearsome tableau of dissonant skull-scraping noise, Merzbow levels of grinding harsh feedback and heaps of low-fi improvised black doom all but hidden by their thick curtains of demonic skree. It certainly made for some demented, evil sounding noise, and the three albums that they released made up a suffocating, bizarre body of work that seemed to challenge even the mighty Abruptum for the crown of nihilistic, abstract black horror.
In 2008, the band announced that they were going to alter their sound and change their name to Gulaggh, with the new incarnation of the band now focusing on creating their terrifying soundscapes using orchestral instruments instead of the blackened ultra-harsh distortion and feedback of their previous works. And while their new sound isn't as harsh or oppressive as the Stalaggh material, Gulaggh has managed to create something that is equally disturbing and nightmarish with their debut album Vorkuta.
The first in a planned trilogy of albums, Vorukta was first released in 2009 by New Era Productions. The album went out of print, but has now been resurrected by Crucial Blast in a revised package for newcomers to Gulaggh's otherworldly dissonant dread. Comprised of a single 45 minute track, the band crafts an epic sound-collage of surrealistic dread formed from violins, saxophones, trumpets, electronics and voices. It begins with what sounds like a old recording of a Russian voice, distorted and echoing, played over a surface of noisy hiss and scraped metal while a far-off kettledrums rumbles in the distance. As the album continues, more sounds appear, stretched out metallic scrapes and deep bass rumblings, sheets of grimy drift and gleaming electronic glitches, and soon the voices begin to enter, the moans and wails of anguished voices merging with the ominous murky ambience, followed by brass horns bleating and straining, violins plucked and scraped, that booming baleful tympani quickening it's thunderous throb, lowing strings resonating below, flute-like whistles wheezing while the throng of screaming, groaning voices becomes louder and more prominent, slowly and inexorably ratcheting up the atmosphere of fear and sickness that hangs over Gulaggh's bizarre aural nightmare.
This bleating, honking, scraping din is like a cross between some demonic chamber ensemble tuning up and a free-jazz group achieving maximum dissonance. Things get really chaotic halfway through when the voices start to swarm in at once and a lone drummer enters the picture, pounding out frenetic free-improv rhythms while the mass of cries and howls and atonal instruments climbs to a fever pitch. The last ten minutes of Vorkuta slowly melts into a din of screaming children (themselves patients from a youth mental hospital) and furious honking horns and scuttling percussion swirling together, like some insane Ayler session drowning in bedlam, and then the sound fades out on a dark drifting fog of droning reeds and depleted horns and low voices, finally coming to a close when that sinister voice from the beginning of the album reappears and brings this in a full circle.
Intensely harrowing and deeply creepy, Vorkuta is one of the more uncomfortable listens I've experienced with its equal parts hellish free-improv, dissonant chamber horror and intensely disturbing sound collage. This new Crucial Blast edition comes in black digipack with metallic silver printing, and is also available for the first time as a high quality digital album.

CRUCIAL BLAST WEBSTORE: NEW ARRIVALS FOR FRIDAY, APRIL 26TH 2013

The featured release at Crucial Blast for this week: the sophomore album from the one-woman Russian band Lamia Vox, Sigillum Diaboli, a masterful collection of ghastly ambient soundscapes, graveyard death-marches, widescreen ritual soundtracks and thunderous death industrial that came in to Crucial Blast just in time for Walpurgisnacht. Like anyone who's a hopeless junkie for the darkest of dark ambient albums, I've been following and collecting the Cyclic Law label for awhile now, but Sigillum Diaboli is my favorite release that the label has brought us, hitting all the right buttons with me - from the morbid atmosphere and Witch's Sabbath ambience of Lamia Vox's black drift to the sudden eruptions of cinematic power and pummeling percussion that appear all throughout the disc, this thing is dark, dark, dark, and which I descibed as falling somewhere in between the black classical orchestrations of Elend, the filmic synth music of Tangerine Dream, the cackling terror of Goblin's Suspiria score and the witchy ambience of Aghast's classic album on Cold Meat Industries. Can't recommend this one enough to fellow fans of blackened catacomb music...

Here's a rundown of most of the other new releases and re-stocks that are also on this week's new arrivals list:

Got a bunch of the new limited edition cassettes on the Wolvserpent label, including a tape release of WOLVSERPENT's Blood Seed and a demo version of their upcoming new album for Relapse, and a tape edition of the latest album from the WOLVSERPENT darkwave offshoot AELTER, III...

We've got both of the now out-of-print vinyl editions of the first two WHOURKR albums Naat and Concrete on Blood Music, each one ULTRA-limited, and in one instance featuring a new bonus track...

Always on the lookout for more music from my favorite Japanese black-thrash band ABIGAIL, and our hunt has turned up the last available copies of their rare Confound Eternal 7" released on Of God's Disgrace Productions...

Got a bunch of represses and new vinyl from Hells Headbangers, including the brand new vinyl reissue of ACID WITCH's Witchtanic Hellucinations (along with the Cd version), the recent picture disc reissue of PORTAL's Outre, the murky Black Twilight death metal of MUKNAL's self-titled LP, and more death metal weirdness...

Also have a bunch of new 7"s in, from the raw mournful doom-slime of the ATOMIC CRIES Suspended Between The Mouth Of God And The Fist Of Man 7" and the latest repress of the one-n-only release from raw hardcore blitzos VEINS...

New in stock from Phage Tapes are recent offerings from BLUE SABBATH BLACK CHEER + PIG HEART TRANSPLANT and the skull-boring deathnoise of CONTENT NULLITY's Absolute Dread tape, and we also have NULLITY's most recent release, the fantastic Scorn Of Totality cassette on Audial Decimation...

The brand new Cd reissue of BORBETOMAGUS's Zurich is here, another classic set of crushing free jazz/harsh noise from this legendary trio, and for fans of ultra-heavy jazzcore/prog/metal, the new album Kundalini Apocalypse is here from COMBAT ASTRONOMY (and it's a CRUSHER)...

We've got a couple of black noise/industrial releases worthy of your attention, the scorching new collab album from CROWN OF BONE and WILT, Neurosis Of Enthrallment on Obfuscated, as well as the latest disc from Russian outfit GANZER, who go for a blistering blackened distorto-assault on Omega Point; even more abrasive, the INTOLITARIAN debut Berserker Savagery is finally in stock, but we're down to the last copies...

Plenty of new/recent/restocked black metal strangeness, of course: there's the new album Anden Om Norr from blooze-tinged rural black metallers CANIS DIRUS, the bizarre piano-driven weirdness of GRAVESIDESERVICE's Popes Pears, and a cassette-only collection of HALLOWED BUTCHERY's early experimental black metal recordings on Vendetta that shows a whole other side to this Maine-based blackdoom loner's sound, and a restock of HALLOW's double Lp collection of surrealist art, blackened hardcore and black noise on Teenage Teardrops. Also have the new CD+DVD reissue of MYSTICUM's industrial black metal classic The Streams Of Inferno, the new Drakkar reissues of LLN-legends VLAD TEPES, including their blazing split album with BELKETRE, the strange experimental black metal/gloom rock of CLOSED ROOM's self-titled debut, and the experimental black metal insanity of SATANS ALMIGHTY PENIS and their debut album Into The Cunt Of Chaos...

We've got the new JUSTIN GREAVES soundtrack for The Devils Business on Death Waltz, a creepy instrumental rock/ambient album from this former ELECTRIC WIZARD / IRON MONKEY member /current CRIPPLED BLACK PHEONIX mastermind that has me seriously hungering to see this British indie horror film; as well as restock of Death Waltz's crucial classic JOHN CARPENTER soundtrack for Halloween III: Season Of The Witch...

Not much gorenoise on this week's list, but I did get a new tape from the deliciously gross GRUESOME TOILET, who brings us 60+ tracks of micro-burst gorenoise filth mixed up with some drooling SOCKEYE-styled tard-moves. Pure joy...

On the death metal side of things, we have Profound Lore's vinyl release of PORTAL's latest slab of surreal death metal Vexovoid, and the stunning new album The Formulas Of Death from progressive death metallers TRIBULATION that seems to have taken everybody by surprise; the debut tape from IMMENSITE, the new Bataille-influenced death metal/drone project from members of ENCOMIAST and CURSEWORSHIP; the recently reissued US version of EVOKEN's doomdeath classic Embrace The Emptiness on Elegy; the wicked industrial death metal/death industrial fusion of FELDGRAU's Mechanized Misanthropy Lp; Nuclear War Now's amazing new reissue of the complete NECROBUTCHER output Schizophrenic Noisy Torment, collecting all of this obscure Brazilian band's late 80s output of blackened noisecore/death metal slime; and then there's the AWESOME new 4xLp boxset from NUCLEAR DEATH that just came out on The Crypt, a collection of everything that this seminal death/grind/noise band released between 1986 and 1991, all packaged in a gorgeous case-wrapped package with full color gatefold jackets and a hefty zine-style booklet...

Some of the new Power Electronics / Death Industrial offerings that are in this week include the harsh junk-chaos and messed-up deathscapes of WINCE's Mushed Down Retardation tape on Joy De Vivre, the bleak battlefield ambience of ULTRAPOLAR INTRUSION's Formation Non-Death on UFA Muzak, and best of all, the new vinyl reissue of DEATHPILE's crushing ode to the Green River Killer, G.R., one of my favorite PE albums of the past decade. We also have the latest 7" from Finnish industrial duo PAIN NAIL, Hengellisiä Lauluja No.2, featuring members of GRUNT, FLESHPRESS and DEATHSPELL OMEGA; the Cd edition of STURMFUHRER's grinding industrial hateblast Niemals Vergessen,

And I got the chance to plunder the entire available catalog of the Uk label Legs Akimbo, who specializes in released 7" and 12" records from some of the noisiest, most violent offenders in the breakcore / speedcore realm, including a split 7" featuring Ukrainian black metaller MOLOCH teaming up with blackened speedcore producer YUDLUGAR; the metallic-tinged speedcore destruction of CORECAINE's Geiger Counter 7"; PRESSTERROR's vicious mashup of digi-grind, speedcore and splittercore, Drrrrrrrressurection Of Suizidcore; the raw blasting breakcore of SADISTIC FOXICIAN's Nonsensical Nightstalking 7"; the surrealist speedcore splatter-nightmare of SCREAMERCLAUZ's Suicidal Serpent Servants 7"; the scatological grind/gabber abuse of SKAT INJECTOR's Abattoir Garnier 7"; and the Wired At The Dis-core-Theque 12" compilation that features a bunch of up-n'-coming Euro speedcore extremists all doing their damnedest to scar your frontal lobe with their 5000 MPH blasts of programmed chaos...

From less ear-wrecking realms comes the dark kosmische drift of CAULBEARER's Haunts, reissued in a higher quality CD digipack package by Peacock Window; the black ritual ambience of HAVAN's debut disc Yajna that features members of FUNERARY CALL and AMBER ASYLUM crafting a half-hour set of stygian ceremonial drift; a fantastic collab album from MZ.412 members NORDVARGR and DRAKH teaming up with US noise/ambient artist CORDELL KLIER to create a strange blackened electronica on The Less You Know, The Better; a restock of the STEPHEN O'MALLEY and ATTILA CSIHAR collab 6°F Skyquake on Editions Mego; a terrific new album of surreal dark experimental drift from RL:ZZ (featuring members of PERSISTENCE IN MOURNING and UNEARTHLY TRANCE) called Phantom Silence; a high-quality compilation / concept album surrounding the occult aspects of Sirius, the "Dog Star", featuring exclusive tracks from the likes of NORDVARGR, EXPO 70, PHELIOS, EMME YA, AH CAMA-SOTZ and a host of other artists from the black / ritual ambient fields; and the cult ethno-ambient/opium psych album Rite Of Passage from dISEMBOWELMENT offshoot TRIAL OF THE BOW...

A bunch of killer mutant/raw hardcore releases in as well, from the deluxe digibook edition of CORROSION OF CONFORMITY's recently reissued psych-thrash classic Eye For An Eye to the latest 12" of blitzoid mutant HC from SOCIETY NURSE, the latest from Winnipeg noise-rock gods KEN MODE, Entrench, IRON LUNG's crushing new album White Glove Test available on Lp and 2CD (with a bonus disc featuring one long track of industrial noise), and a CRUCIAL reissue of GEHENNA's violent blackened hardcore classic Negotium Perambulans In Tenebris ...

On the slow n' low front, we now have the Cd reissue of Viral Load from Seth Putnam's hate-sludge band FULL BLOWN AIDS in stock, as well as a deranged import CDr of alien sludge metal from SCHPERRUNG; a sprawling double-disc collection of demo/comp material from Spanish avant-doom trio ORTHODOX that chronicles their evolution from plodding psych-doom upstarts to their more recent experiments in dark free-jazz/prog; and the new Advaitic Dubplate 12" from OM that features their music being given the deep dub remix treatment by acclaimed UK dup producers ALPHA & OMEGA...

As always, that's just the beginning. There's much more mutant heavy music and misanthropic art to be found on our shelves and in our bins...keep reading below to check out all of the strange and extreme new music, film, and art that's included in this week's new arrivals list.

Go to the Crucial Blast Webstore to check out our list of new arrivals...