NAVIGATE THROUGH CRUCIALBLAST.NET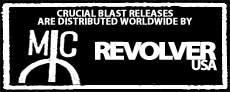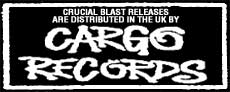 click on the images to enlarge
| | | | | | | | | | | | | |
| --- | --- | --- | --- | --- | --- | --- | --- | --- | --- | --- | --- | --- |
| DIGIPACK CD $9.98 | | | | | | | | | | | | |
NOW AVAILABLE FOR PRE-ORDER. ALL CD ORDERS WILL SHIP AROUND 3/28/14.

One of the finest new bands we've stumbled across here at Crucial Blast, New York based outfit Epistasis first appeared in 2012 with a self-titled album on The Path Less Traveled Records. Those early recordings revealed an interesting confluence of sounds, their often difficult, jagged arrangements traced with elements of prog rock and noise rock, black metal and avant jazz, and even the influence of modern classical composers such as Béla Bartók, Arvo Pärt and György Ligeti. Even then in embryonic form, Epistasis were hinting at the sort of abrasive, atmospheric metal that we're continually obsessed with over here at C-Blast, but it is with their second release (and first for Crucial Blast) Light Through Dead Glass that the band has re-emerged with a much more focused and fleshed-out sound. Now a quartet comprised of Amy Mills on vocals and trumpet (who has also contributed trumpet parts on new albums from Castevet and Psalm Zero), Alex Cohen (drums), Kevin Wunderlich (guitar) and Doug Berns (bass), Epistasis delivers a dark new vision of atmospheric dissonance and surrealistic heaviness with this six-song mini album recorded by Martin Bisi (Sonic Youth, Swans, Unsane).

With this new collection of songs, the band has evolved into something much darker, the music shifting from passages of moody, understated atonal melody into blasts of frostbitten discordant blackness and lurching, angular riffage. Beginning with the crushing, doom-laden dread that opens "Time's Vomiting Mouth", its yawning blackened heaviness glazed in a glistening electronic sheen, the band quickly erupt into paroxysms of jagged black metal-esque violence. Amy Mills's ghastly scream drifts vaporously behind those twisted, lurching grooves and blackened blasts, often trading off with the gorgeously ghostly sound of her trumpet bleating in the darkness, strains of spectral jazziness echoing through the depths beneath the band's complex, metallic assault. These subtle jazz-informed touches are met with the furious drumming of Alex Cohen, also a member of avant death metallers Pyrrhon and NY death metal titans Malignancy; his aggressive performance on Light... give these songs a churning rhythmic intricacy that even seethes beneath the band's more atmospheric moments. And Light... has plenty, from the eerie guitar strings that lilt across the opening minutes of "Finisterre", gradually disassembling into a haze of fractured folkiness before blasting into another swirl of savage blackened discordant metal, later giving way to mournful guitar melodies that cascade across the latter half of the song in limpid sheets of elliptical beauty; to the haunting ambience of "Grey Ceiling", all layered in those bleary horn tones and smeared jazzy drift. The more black metal influenced aspects of Epistasis's sound seem to be informed by the likes of Ved Buens Ende and Virus with a similar tendency towards difficult, off-kilter riffing and odd melodic shapes, and when the guttural chaos of "Witch" appears, there is almost a hint of some of the murkier, more abstract realms of death metal, but this is only barely glimpsed before the band hurtles into the further reaches of psychotic vocal delirium, blasts of controlled chaos and deformed out-jazz horror that make up much of this disc.

Much like label-mates Ehnahre, Epistasis craft an unconventional, complex sound that suggests just as much kinship with the darker and more malevolent realms of prog rock (Univers Zero, Present, "Red"-era King Crimson) as it does with the more outré fringes of black metal, delivering a kind of nightmarish dissonance shot through with scenes of shocking surrealistic violence and flashes of phantasmal beauty.
The CD version comes in digipack packaging.










click on the images to enlarge
| | | | | | | | | | | | | |
| --- | --- | --- | --- | --- | --- | --- | --- | --- | --- | --- | --- | --- |
| DIGIPACK CD $9.98 | | | | | | | | | | | | |
NOW AVAILABLE FOR PRE-ORDER. ALL CD ORDERS WILL SHIP AROUND 4/12/14.

Pennhurst / Xesse is a new collection of rare material from the shadowy black industrial outfit T.O.M.B., featuring their ultra-limited Pennhurst album and the tracks from the one-sided Xesse 12" previously released on Prison Tatt. Featuring all new artwork and presented in a six-panel digipack, this full-length disc delivers over an hour's worth of the band's bizarre brand of vile electro-acoustic noisescapes, oppressive industrial drift and ghoulish vocalizations seemingly dredged up from the dank black bowels of some long-abandoned mausoleum.

Originally released in 2009 as an extremely limited CDR on Esto Perpetua Records, Pennhurst features five tracks of abysmal necro-industrial filth, formed from source material that the band recorded at the notorious Pennhurst State and Norristown State Hospitals, two Philadelphia-area mental asylums that have boasted disturbing legacies of abuse and experimentation in the past. As with their other releases, this centers around nightmarish industrial soundscapes built from the band's blighted blackened electronics and creepy field recordings, the tracks often erupting into blasts of suffocating hellish noise. The throbbing black distorted synthesizers that pulse across opener "Primevil Sorcery" rumble forth like waves of black lava, the band's signature suffocating bass frequencies rolling across fields of agonized, wraithlike screaming and crackling volcanic noise, while percussive metallic sounds echo and clatter in the depths, a miasma of abyssal sound that swirls and shudders in the darkness, revealing horrific aural details, eruptions of deformed blown-out melody and bursts of nightmarish agony within the massive, churning chaos that stretches out for nearly twelve minutes. As that stygian roar rumbles right into "Maz Ov Tha Damd", the band surges into a primal tattoo of ritualistic rhythm, pounding primordial drums thundering beneath their layered noise and field recordings and amplified metallic reverberations, blending a brutal improvisational percussive assault with more of that suffocating black noise, demonic shrieks and foul reptilian screams rupturing in the blackness, the sound growing more monstrous and violent as the drums give way to abrasive sheet-metal abuse. The nearly twenty five minute "Goetic Xaos" is the centerpiece of Pennhurst, another sprawling sonic nightmare of processed acoustic percussion and infernal drone, the sound dense and swirling and psychedelic, infested with stretches of slithering black ambience and deep tectonic reverberations that rumble deep below the surface, the air alive with ghostly found sounds and harsh metallic abrasions, warped transmissions of ancient voudou drumming and demonic EVP. The wailing voices that drift out of that thunderous din seep into the short interlude "Audi Alteram Partem", which almost resembles some demented Diamanda Galas piece lost in a fog of metallic skree and cathedral reverb, and then the album descends into the utterly monstrous title track, a blackened expanse of rotting electronics and crumbling concrete, the sound of entropy and psychological decay sped up into a blur of Merzbowian sonic horror that wraps up the disc. The whole thing adds up to one of T.O.M.B.'s most intense blasts of sonic terror.

The other half features T.O.M.B.'s Xesse, one of the band's more "ambient", droneological works. That's not to say that this is any less fearsome than the preceding tracks, though. This EP opens with a chorus of wailing voices, the sounds of abject suffering echoing and reverberating within some lightless underground crypt. A deep distant rumbling presence can be heard, just barely perceptible; it's quickly overcome by heavy waves of harsh crackling noise and fuzz that slowly sweep in and recede, washing away those screams of agony and leaving behind a residue of minimal, empty blackness in their place. From there, Xesse moves into crushing Lustmordian walls of drone, thick buzzing synthesizers rumbling under snarling, electronically-warped vocals and other demonic utterances, the synth dropping in and out as bits of minor key drift float in. Out of this growing graveyard chaos comes the sound of distorted chanting, sonic remnants of some unseen ritual taking place in the depths of T.O.M.B.'s soundscape. Heavier drones recede, leaving a cacophony of scraping metal noise and processed bass tones and what almost sounds like crushing, doom-laden guitars grinding deep in the murk. The recording constantly shifts between those placid lifeless drones and strange echoing graveyard rituals and the swells of hallucinatory heaviness, eventually giving way to some seriously mind-melting cosmic drift towards the end, the voices shifting from blasphemous ranting to garbled unknown tongues as it drifts out into an abyss of swirling dub effects, delicate chiming tones, and rhythmic metal pounding that finally erupts into frantic percussive chaos, the thunder of hammers on metal shaking the chthonic depths, then fading into silence.










click on the images to enlarge
| | | | | | | | | | | | | |
| --- | --- | --- | --- | --- | --- | --- | --- | --- | --- | --- | --- | --- |
| DIGIPACK CD $9.98 | | | | | | | | | | | | |
NOW AVAILABLE FOR PRE-ORDER. THE FIRST 200 ORDERS FOR PLAGUE BEASTS DIRECT FROM CRUCIAL BLAST WILL COME WITH A BONUS LIMITED-EDITION TWELVE-PAGE FULL COLOR ART ZINE DESIGNED BY GNAW THEIR TONGUES / CLOAK OF ALTERING MASTERMIND MORIES. ALL CD ORDERS WILL SHIP AROUND 4/25/14.

Although most would probably best know Dutch avant-metal madman Mories for his notorious blackened industrial/orchestral doom outfit Gnaw Their Tongues, he's also been involved with a number of projects that one could describe as being rooted in a much more recognizable "black metal" sound. One of 'em is Cloak Of Altering, a project that Mories started in 2011 as a continuation of his earlier black metal band Ophiuchus. The previous Cloak Of Altering albums explored Mories's fascination with the early symphonic black metal of In the Nightside Eclipse-era Emperor and Arcturus's early efforts, as well as the more fiendish and fractured forms of industrial black metal as practiced by the likes of Dødheimsgard. Each new release has moved deeper into stranger and more mutated realms of electronically-damaged symphonic black metal, though, and with Cloak Of Altering's third album (and first for Crucial Blast) Plague Beasts, Mories delivers a ferocious affront to black metal form and structure, combining his otherworldly strain of sweeping symphonic black metal with bursts of intense electronic chaos, waves of nebulous synthesizer and spastic rhythmic violence that, at times, feels more like something you'd hear off of a Planet Mu 12".

As with most of his other projects (Gnaw Their Tongues, Aderlating, De Magia Veterum, Seirom, etc.), this deforms aspects of black metal into something even more surreal, but where the likes of Gnaw Their Tongues feature heavy use of orchestral sounds, the seven songs on Plague Beasts showcase a much more pronounced use of synthesizers. The melodies that seethe and swarm throughout the album at times resemble some twisted nightmare version of prog rock keyboard freak-outs, or vintage 16-bit game soundtracks being fused to the gristle and graveyard stink of second wave black metal. As soon as opener Plague Beasts kicks in, the album begins it's pummeling assault of churning programmed drumming and nuclear rhythmic chaos, unleashing volleys of violent machinegun-like blastbeats and skull-crushing gabber kicks beneath a baleful swarm of frostbitten blackened riffs, spiteful howling vocals sinking into the underlying layers of orchestral murk. You can definitely pick up on Mories's signature use of horrific orchestral sounds, but those elements are submerged beneath the fuzz-enshrouded black metal riffs and those swirling elliptical synths, melting those epic symphonic black metal influences into a psychotic cyborg stew of washed-out trip-hop rhythms, garbled discordant tremolo riffs, bizarre gurgling vocals, and swells of stunning, almost shoegazey majesty that suddenly wash over the music, imbuing it for a moment with a luminous black glow of aching apocalyptic beauty. On other tracks like "White Inverted Void", the album shifts into glitch-damaged electro-black metal epics roiling with crazed synthesizer arpeggios and complex keyboard melodies, while "Ash666urA" lurches like some utterly malformed breakcore monstrosity, all slow motion lurch and spasm, discordant sour riffage and those guttural putrid vocals rolling into passages of strange twilight eeriness. There are blasts of hellish nightmare ambience woven into mutant blackened drum n' bass spasms ("Into Celestial Hell") and assaults of atmospheric black metal grandeur infested with splintered, ultra-violent junglist rhythms reminiscent of artists like Shitmat and Venetian Snares ("Altering Forever"). And on "Translucent Body Deformities" and "Chaos Magician Of The Abyss", lush layers of gleaming synthesizer and orchestral strings are draped over rabid mechanized blasts and mosquito-buzz guitars, forming into some strange fusion of early Nordic black metal fury and the baroque soundtrack work of Keith Emerson, the drums locking up into stuttering, broken rhythms and glitched-out pandemonium.

More than anything else from Mories, this stuff is closest in spirit to the malevolent necro-industrial and fractured drug-fueled machine-ecstasies of bands like Aborym, Blacklodge, Dodheimsgard, Mysticum, and Abigor. But as with anything that this guy is involved with, Plague Beasts seethes with a deliriously demonic atmosphere entirely its own.
Comes in six-panel digipack packaging.





CRUCIAL BLAST WEBSTORE: NEW ARRIVALS FOR WEDNESDAY, AUGUST 21ST 2013

Here's what's new this week in the Crucial Blast shop...
The latest LP (vinyl only, at the moment) of thermo-nuclear noisegrind and meth-fueled improvisation from Japan's Sete Star Sept is on the shelf this week, and kicking much ass here in the C-Blast office. Titled Visceral Tavern, this nineteen-song record sees the bass/drums duo launching into ever more extreme heights of grinding chaos, with the whole first side of the album focused on their unique brand of inchoate noisecore, rife with crushing malformed riffs and supersonic cyclones of speed. On the other side, though, they spill out into a sprawling improv set, a single side-long jam that expands on their crazed live-sets, where suddenly shifting into violent improvisational blasting is the norm. This thing is a face-shredding avant-grind assault that continues to batter me senseless every time I spin it. To top it off, it comes in a killer-looking full color jacket featuring another of Shintaro Kago's stomach-churning guro covers!

Also of note this week is the new CD from Husere Grav, You Are Transparent, available now from our Crucial Blaze imprint. It's the latest album of spectral industrial creep and blackened drone from this project, some seriously ghoulish ambience seeping out of these clanking graveyard soundscapes amid waves of hypnotic distorted crumble. Seven songs of macabre ambience and ghostly black drift that combines the charnel perfume of early 90's black metal with the desolate early industrial sounds of the Broken Flag label and the subterranean reverberations that Lustmord pioneered on albums like "Heresy" and "The Monstrous Soul". I've been playing this thing constantly ever since we got the master. The disc comes in the signature Blaze style clear DVD case with a black-and-white art zine, a Husere Grav sticker, and 1" pin, released in a limited hand-numbered edition of four hundred copies.

Here's a rundown of the other new releases and re-stocks that are also on this week's list:

NEW RELEASES / NEW IN STOCK:

- Another Sete Star Sept record, this one a split 10" with cult Brazilian noisecore freaks Noise...
- The debut 12" of crushing, angular noise rock/hardcore pummel from Negative Press...
- The latest limited-edition 7" of avant-garde black metal from cult Norwegian weirdos Fleurety...
- The latest album of witchy, phantasmagoric blackness and hypnotic necro/blast/prog from Charnel House...
- The latest Antigama album Meteor, an awesome new assault of crushing, progressive grind...
- More Dutch black metal weirdness via Lanz's industrial black metal/necro-techno hallucination Incinerator...
- A bunch of recent releases on the Occult Supremacy CDR label, all sorts of putrid psychedelic black noise, HNW and mutant black metal from Abyzm, Phantasm Nocturnes, Burial Ground, Wire Werewolves, Ascetic Hedonism, Luasa Raelon, Infirmary, Sodadosa and Plague Scripture...
- The latest album of diseased, glacial doom and rotting death industrial horror from Welter In Thy Blood...
- a CD collection of the 80's-era recordings from obscure Baltimore Joy Division-influenced hardcore punk band Grey March...
- the latest album of sparse, brutal, Princess Di-obsessed power electronics from Iron Fist Of The Sun...
- the latest vinyl reissues from sludge metallers Isis, deluxe editions of Celestial and Panopticon...
- A new vinyl repress of Coffins's crushing slab of rotting Japanese death-sludge Buried Death...
- a restock of the out-of-print Manifold Records release of Maeror Tri's industrial drone masterpiece Meditamentum...
- The newly reviewed new album from UK black metal weirdos The Meads Of Asphodel, their most bombastic music yet...
- The third entry in Nordvargr and Merzbow's Partikel trilogy of harsh, complex electronic noisescapes...
- Another immersive tape of dark ritualistic ambience and apocalyptic kosmische drift from Aleph Naught...
- A double-cassette release compiling early demos from the confrontational/controversial power electronics outfit Deathkey...
- Emme Ya's new album of pitch-black ritual ambience on Cold Spring, easily the darkest work yet from this artist...
- Archaic Pandemonium, a two-cassette collection of demos from this amazing gloomy black/thrash band...
- The new LP version of Sadgiqacea's crushing sludge metal debut False Prism...
- Both albums from the murder-obsessed, experimental UK industrial/darkwave duo Section 37...
- A stunning experimental black/noise/ambient album from K11 and RMEDL, featuring guest spots from Utarm, L'Acephale and more...
- A super-limited cassette of dark kosmische industrial drift from Wraiths side-project Sigillum Dei...
- New cassette of vicious blackened punk and deformed doom from the human-hating French/Dutch duo Spite...
- Sun Splitter's II cassette, an older dose of heavy industrial sludge from this Chicago outfit...
- The clear vinyl version of Planaria's LP release of Freed Of This Flesh from abject doomwraiths Trees...
- An extremely cool triple-cassette collection titled Frozen In Time that features Persistence In Mourning, Fear Konstruktor, Swamp Horse, Terence Hannum (LOcrian), Ryan Unks (The Human Quena Orchestra), and King Dude each doing their own tribute to the films of Ingmar Bergman...
- A reissue of Psenodakh, the first album of blackened death-chant dronescapes from Vishudha Kali...
- newly reviewed recent releases from UK doom metallers Moss and Italian occult-prog blackthrashers Mortuary Drape...
- a brutal tape of primitive French-Canadian noisecore a la Seven Minutes Of Nausea from Les Orphelins Duplessis, but far more ideologically provocative...
- the latest album from dark ambient master Lustmord The Word As Power, his first vocal-centric album...
- an early limited-edition tape release from French ritual drone-demons Mhonos, Miserere Nostri...
- A new CD reissue of the album Abstraker Wald from black metal/wintersynth master Moloch...
- The new album Shadows from Boston crust/sludge progressives Morne, the darkest work yet...
- A new collection of reworked black kosmische jams and vintage synthcreep from Neige Et Noirceur...
- A rare split 7" from the early 90s featuring the primitive Brazilian noisecore of Noise and Industrial Holocaust...
- The final album from Danish deathdoom band Obskure Torture, here transformed into rumbling black power electronics...
- The latest repress of Pallbearer's modern masterpiece of mournful doom metal, Sorrow And Extinction...
- A massive double-disc collection of rareities from creep-ambient master/Schimpfluch-Gruppe member Dave Phillips...
- The latest vinyl edition of the classic danksta grindcore album Sniping Pigz from Plutocracy...
- A new double disc collection of out-of-print material from Ex-Electric Wizard sludgemetal band Ramesses...
- The third issue from underground black metal/industrial zine Regress featuring Trepaneringsritualen, Black Cilice...
- Some older Ministries Of Blood CDR titles in stock for the first time, including discs from the improv/black/doom scum-cult Breath Of Chaos, a black-noise porno soundtrack from Demonologists, and blackened power electronic filth from L'Exorcisme...


As always, that's just the beginning. There's much more mutant heavy music and misanthropic art to be found on our shelves and in our bins...keep reading below to check out all of the strange and extreme new music, film, and art that's included in this week's new arrivals list.

Go to the Crucial Blast Webstore to check out our list of new arrivals...