NAVIGATE THROUGH CRUCIALBLAST.NET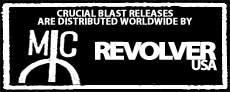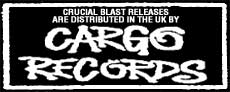 click on the images to enlarge
THEOLOGIAN Some Things Have To Be Endured CD DIGIPACK
CBR104
$9.98


THEOLOGIAN Some Things Have To Be Endured SHIRT
CBR104SH - BLACK GILDAN BRAND GARMENT
$18.98


THEOLOGIAN Some Things Have To Be Endured CD DIGIPACK + SHIRT
CBR104SH - BLACK GILDAN BRAND GARMENT
$27.98

The latest offering from NY synth-death master Theologian (aka Leech, also the mastermind behind the renowned power electronics/death industrial outfit Navicon Torture Technologies), Some Things Have To Be Endured features eight new tracks of punishing black industrial, apocalyptic darkwave frequencies, and nerve-rending electronic deathscapes. Endured is a collection of collaborations between Theologian and a lineup of female vocalists/artists from both within the industrial / noise / dark ambient / coldwave realm and beyond, with contributions from Rachael Kozak (Hecate), Kristen MacArthur (Sewer Goddess), Rachel Maloney (Tonikom), Nikki Telladictorian (Prometheus Burning), Patricia Benitez (Fetish Drone), Gillian Leigh Bowling (Teloahqaal), Christiana Key (Delphic Oracle), Joan Hacker (Factoria), Shari Vari (Void Vision), and professional opera singer Melissa C. Kelly. The tracks shift from grinding industrial dread to ethereal coldwave beauty, blasts of rumbling blackened synthcrush met with washes of haunting electronic melody, while always remaining rooted in Theologian's bleak, jet-black industrial sound. Co-produced with Derek Rush/DREAM INTO DUST and mastered by James Plotkin, Some Things Have To Be Endured contains some of the most moving and dramatic music to emerge from Theologian's black sonic abyss, and the album comes adorned with striking photography by Ione Rucquoi that makes this one of the more visually arresting releases in Theologian's growing catalog.












click on the images to enlarge
ENBILULUGUGAL Noizemongers For Goatserpent 2xCD
CBR105
$11.98


ENBILULUGUGAL Noizemongers For Goatserpent SHIRT
CBR105SH - BLACK GILDAN BRAND GARMENT
$13.98


ENBILULUGUGAL Noizemongers For Goatserpent 2xCD + SHIRT
CBR105SH - BLACK GILDAN BRAND GARMENT
$24.00

THE FIRST 100 ORDERS (FOR EITHER THE 2CD OR THE 2CD/SHIRT PACKAGE) FOR NOIZEMONGERS FOR GOATSERPENT COME WITH A FREE 5" x 3" WOVEN ENBILULUGUGAL PATCH !

Enbilulugugal's debut album Noizemongers For Goatserpent was a putrid eruption of low-fi black metal, harsh noise and experimental, anti-musical weirdness that arrived with a splat on the black/noise underground in 2004, infused with a Black Legions-style mix of weird invented mythology and garbled language. The album first appeared as a super-limited CDR released by the now-defunct Rusty Axe label, a home for some of the most demented experimental black metal of the past decade, and has been out of print in the physical realm for nearly a decade. It's been one of Crucial Blast's favorite releases from the band, a vicious, hideous mass of churning blackened hatred and brain-warping chaos that has now been resurrected as a deluxe double disc set that features more than an hour and a half of bonus filth, all re-mastered for maximum ear-hate by Enemata Productions, and presented in a new digipack design with artwork from acclaimed underground illustrator Jeff Zornow.

The first disc features the original Noizemongers for GoatSerpent album, a twenty-nine "song" assault of hyper- distorted blasphemy blasted out in minute-long eruptions of noise and violence. Barbaric black metal riffs and monotonous, primitive blastbeats are bathed in corrosive static, while bursts of stomping, catchy punk rock, insane cut-up experiments and harsh electronic noise all surface within Enbilulugugal's bubbling bouillabaisse of blackened filth. The songs will suddenly lurch out of some blown-out, psychotic black metal blast into a bizarre noisescape of backwards screams, fluttering keyboard noises, swarming digital glitchery and noxious, garbled riffs, or turn into a kind of blackened power electronics, with gales of black static punctuated with those feral screams. Some of the other tracks on Goatserpent are nightmarish, drug fueled noise-hallucinations like "Goatoplasm" and "Raped by Mammoth", where blown-out calliope melodies, weird synth sounds and trippy effects are liberally smeared over the sickening noise, and there's some other forays into even greater depths of improvisational madness. Izedis's vocals match all of this insanity with a combination Abbath-esque croak and drooling high-pitched screams that echo wildly over the slimy low-fi chaos and primitive black metal. This album still sounds as extreme as it did back when it first came out, a brain-damaged meeting between the primitive savagery of Von, early Beherit and Ildjarn, and the extreme psychedelic electronics of Japanese noise groups like Masonna and Incapacitants that reaches some sublime moments of ear-shredding evil and infectious necro-chaos. There's a perverse, utterly profane sense of humor in the song titles and cranked-up, psychotic visuals, but Enbilulugugal was dead serious in its drive towards depravity and extreme violence through black noise.

The other half of the first disc has Izedis's TnepreStaoG Rof SregnomezioN "remixes", which uses the original Goatserpent album as the raw material for an onslaught of extreme electronic noise. The source material is rendered nearly unrecognizable, twisted and transformed by Izedis into washes of ghostly electronic synthdrift and harsh distorted noisescapes, sometimes taking on the appearance of demonic shortwave transmissions coming from outside our Universe, crushing cosmic synth meltdowns, or even more distorted and deformed blasts of glitch-riddled, chopped up black noise.

The second disc in the Goatserpent set is loaded with rare compilation tracks, demo material and other out-of-print recordings from Enbilulugugal that includes the band's tracks from three of the Under The Axe compilations, the tracks off the Exhibition the First and Sacrifice at the Altar of the Satanic Blood Angel compilations, the Bloodbath in Darkness online EP, the tracks from the split with Gromkult, and the tnepreStaoG and taoGtnepreS demos. These tracks offer up a howling vision of low-fi blackgrind awash in Merzbowian distortion, fucked-up necro-noisecore, foul shambling dirges, passages of ghastly dungeon ambience, and some KILLER blasts of discordant blackened punk that features a slightly more "musical" side of Enbilulugugal's snarling chaos.

Although these recordings are shot through with moments of dark distorted majesty and crushing black metal riffage, Enbilulugugal's "music" is about as extreme and as noisy as it gets within the realm of black metal, with a low-fi aesthetic and tendency towards total sonic overload that'll test the most ardent necro-addicts. Fans of the damaged black/noise/metal and outsider black metal of bands like Furze, Lord Foul, Ride For Revenge, Wold, Demonologists and Wrnlrd will find much to enjoy here. All others, beware...












click on the images to enlarge
HUSERE GRAV You Are Transparent CD + ARTZINE / DIGITAL ALBUM
BLAZE008
$9.99

The mysterious Husere Grav (pronounced "Huss-urr-ee Grahv") first rose out of the ashes of black metal duo Homunculus in 2006, and over the past eight years has released some spectacular pieces of utterly dread-filled industrial blackness. Following up splits with Meditations, TRTRKMMR and Robedoor and the 2012 Cd Ten Graves, Husere Grav's latest full-length offering comes via the Crucial Blaze imprint, a seven-song album of macabre ambiance and ghostly black drift that combines the charnel perfume of early 90's black metal with the desolate early industrial sounds of the Broken Flag label and the subterranean reverberations that Lustmord pioneered on albums like Heresy and The Monstrous Soul.
The crushing, crepuscular dronescapes on You Are Transparent are littered with bursts of creepy metallic whirr, pipe organ and ghastly reverb that rises above a sea of churning, distorted low-end rumble, with ritualistic percussion and blasts of distorted synth and distant, incorporeal voices drifting in slow motion through the sulfurous drift of opener "Red Room", adding to the album's already hallucinatory atmosphere. The surreal, creepy vibe runs through the whole disc, as "Terrors" erupts into a raging delirium of angelic screams and black holocaust winds, the swirling dreamlike din drenched in endless reverb; and "Lines" drops a minimal, menacing rhythmic throb into the middle of whirling drones and jet-roar distortion. At times this evolves into a sort of sinister minimalist electronica, pitch black and murderous, sending black lines of distorted bass through the bleak industrial drift. As Transparent continues to drift further out across across the abyss, the sound mutates, later transforming into a vast ethereal roar of sound, hypnotic and speaker-rattling, and elsewhere erupts into walls of incandescent distorted synth. These immense ominous dronescapes and waves of hypnotic industrial rumble are bathed in a carcinogenic glow, which stretches all the way into the closing monstrous mechanical pulse and melodic murk of "No Dreams", which ends the album like some strange combination of Tim Hecker's granular ambient soundscapes and the monotonous blackened rumble of old-school Italian industrial artists like Maurizio Bianchi and Mauthausen Orchestra. This is true dream-music for the end times.
Released as part of Crucial Blast's Crucial Blaze series, the physical release of You Are Transparent comes in a clear DVD-style case with a sixteen-page black and white art zine filled with strange, autumnal images and abstract high-contrast photos and sealed with a printed obi band, a vinyl sticker and a 1" button. Limited to four hundred hand-numbered copies.



CRUCIAL BLAST WEBSTORE: NEW ARRIVALS FOR WEDNESDAY, AUGUST 21ST 2013

Here's what's new this week in the Crucial Blast shop...
The latest LP (vinyl only, at the moment) of thermo-nuclear noisegrind and meth-fueled improvisation from Japan's Sete Star Sept is on the shelf this week, and kicking much ass here in the C-Blast office. Titled Visceral Tavern, this nineteen-song record sees the bass/drums duo launching into ever more extreme heights of grinding chaos, with the whole first side of the album focused on their unique brand of inchoate noisecore, rife with crushing malformed riffs and supersonic cyclones of speed. On the other side, though, they spill out into a sprawling improv set, a single side-long jam that expands on their crazed live-sets, where suddenly shifting into violent improvisational blasting is the norm. This thing is a face-shredding avant-grind assault that continues to batter me senseless every time I spin it. To top it off, it comes in a killer-looking full color jacket featuring another of Shintaro Kago's stomach-churning guro covers!

Also of note this week is the new CD from Husere Grav, You Are Transparent, available now from our Crucial Blaze imprint. It's the latest album of spectral industrial creep and blackened drone from this project, some seriously ghoulish ambience seeping out of these clanking graveyard soundscapes amid waves of hypnotic distorted crumble. Seven songs of macabre ambience and ghostly black drift that combines the charnel perfume of early 90's black metal with the desolate early industrial sounds of the Broken Flag label and the subterranean reverberations that Lustmord pioneered on albums like "Heresy" and "The Monstrous Soul". I've been playing this thing constantly ever since we got the master. The disc comes in the signature Blaze style clear DVD case with a black-and-white art zine, a Husere Grav sticker, and 1" pin, released in a limited hand-numbered edition of four hundred copies.

Here's a rundown of the other new releases and re-stocks that are also on this week's list:

NEW RELEASES / NEW IN STOCK:

- Another Sete Star Sept record, this one a split 10" with cult Brazilian noisecore freaks Noise...
- The debut 12" of crushing, angular noise rock/hardcore pummel from Negative Press...
- The latest limited-edition 7" of avant-garde black metal from cult Norwegian weirdos Fleurety...
- The latest album of witchy, phantasmagoric blackness and hypnotic necro/blast/prog from Charnel House...
- The latest Antigama album Meteor, an awesome new assault of crushing, progressive grind...
- More Dutch black metal weirdness via Lanz's industrial black metal/necro-techno hallucination Incinerator...
- A bunch of recent releases on the Occult Supremacy CDR label, all sorts of putrid psychedelic black noise, HNW and mutant black metal from Abyzm, Phantasm Nocturnes, Burial Ground, Wire Werewolves, Ascetic Hedonism, Luasa Raelon, Infirmary, Sodadosa and Plague Scripture...
- The latest album of diseased, glacial doom and rotting death industrial horror from Welter In Thy Blood...
- a CD collection of the 80's-era recordings from obscure Baltimore Joy Division-influenced hardcore punk band Grey March...
- the latest album of sparse, brutal, Princess Di-obsessed power electronics from Iron Fist Of The Sun...
- the latest vinyl reissues from sludge metallers Isis, deluxe editions of Celestial and Panopticon...
- A new vinyl repress of Coffins's crushing slab of rotting Japanese death-sludge Buried Death...
- a restock of the out-of-print Manifold Records release of Maeror Tri's industrial drone masterpiece Meditamentum...
- The newly reviewed new album from UK black metal weirdos The Meads Of Asphodel, their most bombastic music yet...
- The third entry in Nordvargr and Merzbow's Partikel trilogy of harsh, complex electronic noisescapes...
- Another immersive tape of dark ritualistic ambience and apocalyptic kosmische drift from Aleph Naught...
- A double-cassette release compiling early demos from the confrontational/controversial power electronics outfit Deathkey...
- Emme Ya's new album of pitch-black ritual ambience on Cold Spring, easily the darkest work yet from this artist...
- Archaic Pandemonium, a two-cassette collection of demos from this amazing gloomy black/thrash band...
- The new LP version of Sadgiqacea's crushing sludge metal debut False Prism...
- Both albums from the murder-obsessed, experimental UK industrial/darkwave duo Section 37...
- A stunning experimental black/noise/ambient album from K11 and RMEDL, featuring guest spots from Utarm, L'Acephale and more...
- A super-limited cassette of dark kosmische industrial drift from Wraiths side-project Sigillum Dei...
- New cassette of vicious blackened punk and deformed doom from the human-hating French/Dutch duo Spite...
- Sun Splitter's II cassette, an older dose of heavy industrial sludge from this Chicago outfit...
- The clear vinyl version of Planaria's LP release of Freed Of This Flesh from abject doomwraiths Trees...
- An extremely cool triple-cassette collection titled Frozen In Time that features Persistence In Mourning, Fear Konstruktor, Swamp Horse, Terence Hannum (LOcrian), Ryan Unks (The Human Quena Orchestra), and King Dude each doing their own tribute to the films of Ingmar Bergman...
- A reissue of Psenodakh, the first album of blackened death-chant dronescapes from Vishudha Kali...
- newly reviewed recent releases from UK doom metallers Moss and Italian occult-prog blackthrashers Mortuary Drape...
- a brutal tape of primitive French-Canadian noisecore a la Seven Minutes Of Nausea from Les Orphelins Duplessis, but far more ideologically provocative...
- the latest album from dark ambient master Lustmord The Word As Power, his first vocal-centric album...
- an early limited-edition tape release from French ritual drone-demons Mhonos, Miserere Nostri...
- A new CD reissue of the album Abstraker Wald from black metal/wintersynth master Moloch...
- The new album Shadows from Boston crust/sludge progressives Morne, the darkest work yet...
- A new collection of reworked black kosmische jams and vintage synthcreep from Neige Et Noirceur...
- A rare split 7" from the early 90s featuring the primitive Brazilian noisecore of Noise and Industrial Holocaust...
- The final album from Danish deathdoom band Obskure Torture, here transformed into rumbling black power electronics...
- The latest repress of Pallbearer's modern masterpiece of mournful doom metal, Sorrow And Extinction...
- A massive double-disc collection of rareities from creep-ambient master/Schimpfluch-Gruppe member Dave Phillips...
- The latest vinyl edition of the classic danksta grindcore album Sniping Pigz from Plutocracy...
- A new double disc collection of out-of-print material from Ex-Electric Wizard sludgemetal band Ramesses...
- The third issue from underground black metal/industrial zine Regress featuring Trepaneringsritualen, Black Cilice...
- Some older Ministries Of Blood CDR titles in stock for the first time, including discs from the improv/black/doom scum-cult Breath Of Chaos, a black-noise porno soundtrack from Demonologists, and blackened power electronic filth from L'Exorcisme...


As always, that's just the beginning. There's much more mutant heavy music and misanthropic art to be found on our shelves and in our bins...keep reading below to check out all of the strange and extreme new music, film, and art that's included in this week's new arrivals list.

Go to the Crucial Blast Webstore to check out our list of new arrivals...