NAVIGATE THROUGH CRUCIALBLAST.NET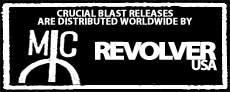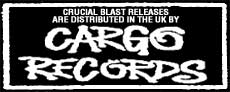 Available now from Crucial Blast: The new Autumn 2014 label sampler Carrion Anthems features a variety of tracks taken from new, recent, and forthcoming releases from Crucial Blast, showcasing the depths of the label's current activity. Ranging from crushing death industrial, outré black metal, misanthropic power electronics, jet-black ambient, twisted blackened industrial heaviness, occult darkwave, and noise-damaged death metal, this twenty-two track compilation showcases Crucial Blast's latest forays into the strangest subterranea of the black/death/industrial/ambient underground. With nearly two hours of music, the sampler includes as-yet unreleased tracks from upcoming releases from GNAW THEIR TONGUES, DEGENERATE SLUG, LUASA RAELON, and PERSISTENCE IN MOURNING, as well as tracks from recent label releases from EPISTASIS, CLOAK OF ALTERING, T.O.M.B., THEOLOGIAN, EMIT, ENBILULUGUGAL and more. Carrion Anthems is available as a FREE download through the Crucial Blast Bandcamp page at this location: STREAM AND DOWNLOAD CARRION ANTHEMS HERE









click on the images to enlarge
| | | | | | | | | | | | | |
| --- | --- | --- | --- | --- | --- | --- | --- | --- | --- | --- | --- | --- |
| GATEFOLD LP (PRE-ORDER) $18.00 | | | | | | | | | | | | |
SHIPPING NOW!

"Leech has crafted a monstrous, ghastly album of lurching rhythms and totally downer melodies - think the Cure's Pornography remixed by Vatican Shadow." - Aquariusrecords.org

The vinyl edition of Theologian's recent full-length Some Things Have To Be Endured comes in full-color gatefold packaging with completely different artwork from the CD version released by Crucial Blast, using the evocative and disturbing images of NY photographer Gretchen Heinel; this edition comes on blood-red vinyl, in an edition of five hundred copies.

Magick. Motherhood. Pain. Suffering.
Blood. Tension. Nausea. Desire.
Obsession. Addiction. Loathing. Violence.
The loss of hope. Unfulfilled dreams. Unhealed wounds.

SOME THINGS HAVE TO BE ENDURED.

The latest offering from NY synth-death master Theologian (aka Leech, also the mastermind behind the renowned power electronics/death industrial outfit Navicon Torture Technologies), "Some Things Have To Be Endured" features eight new tracks of punishing black industrial, apocalyptic darkwave frequencies, and nerve-rending electronic deathscapes. "Endured" is a collection of collaborations between Theologian and a lineup of female vocalists/artists from both within the industrial / noise / dark ambient / coldwave realm and beyond, with contributions from Rachael Kozak (Hecate), Kristen MacArthur (Sewer Goddess), Rachel Maloney (Tonikom), Nikki Telladictorian (Prometheus Burning), Patricia Benitez (Fetish Drone), Gillian Leigh Bowling (Teloahqaal), Christiana Key (Delphic Oracle), Joan Hacker (Factoria), Shari Vari (Void Vision), and professional opera singer Melissa C. Kelly. The tracks shift from grinding industrial dread to ethereal coldwave beauty, blasts of rumbling blackened synthcrush met with washes of haunting electronic melody, while always remaining rooted in Theologian's bleak, jet-black death industrial. Co-produced with Derek Rush/DREAM INTO DUST and mastered by James Plotkin, "Some Things Have To Be Endured" contains some of the most moving and dramatic music to emerge from Theologian's black sonic abyss to date.









click on the images to enlarge
| | | | | | | | | | | | | |
| --- | --- | --- | --- | --- | --- | --- | --- | --- | --- | --- | --- | --- |
| DIGIPACK CD $9.98 | | | | | | | | | | | | |
The latest album of murky graveyard ambience, deranged synth, phantasmic dread and ritualistic black drift from this cult UK outfit, their first in nearly ten years. Surrealistic, spectral music and nocturnal delirium transmitted from beyond the veil and steeped in the mysteries of old Britain, like some twisted, eldritch fusion of Fabio Frizzi, In Umbra Malitiae Ambulabo-era Abruptum, and 80's darkwave.

First released as an extremely limited cassette on Glorious North, Spectre Music Of An Antiquary is the first new material from Emit in over five years, a full length collection of murky ambience, deranged 80's style synth, ritualistic black drift, and stranger sounds forays into black noise. This British outfit has been creating their unique brand of experimental blackened delirium since the late 90s, branching out of a low-fi UK black metal band called Ante Cryst. With Emit, the members began to explore a creepy, synth-heavy sound that was unmistakably descended from black metal but supremely more deformed, combining harsh electronic noise, horror-movie soundtrack atmospherics, droning keyboards, wrecked and fractured black metal guitars, and bizarre vocals that would often push Emit's music into a strange realm of hallucinatory, ghastly psychedelia. On their latest tape Spectre, though, Emit's sound has morphed into something that more resembles some mutated, primitive 80's darkwave being completely taken over by malevolent spirits, with eerie electronic drones and distant moaning vocals often taking over; very different from what I've heard from Emit in the past, though no less weird or phantasmagoric. And as with other Emit offerings, this is concerned more with the occult lore and hidden history of the British isles than Satanism or goat worship or any of the other over-used black metal tropes, which all serves to enhance the wraithlike vibe of these songs.
The album opens up with that chorus-drenched minor key guitar sound that is unmistakably Emit, eerie choral drift intertwining around the vaguely off-key melody of this short intro track "Haunter Of Benighted English Summers", sounding dreamlike and hallucinatory and off from the start. That's over pretty quickly, and then it completely shifts gears with the throbbing distorted synth and gated drums of "Mors Wher Devels Are Abrod", an eerie melody woven around ghoulish vocals lost off in the background, that chiming, chorus-soaked guitar coming back in after a while; utterly weird, this sounds like some cross between something off Tangerine Dream's score for Risky Business, a rack of keyboards lifted from John Carpenter's Prince Of Darkness soundtrack, and a shambling low-fi basement black metal outfit, and the result is rather bewitching. Clanking industrial percussion, strange mechanical melodies and distant crooning blur together on "The Dusk Gardens Of Translucent Mansions", continuing the bizarre dreamlike feel of the album, sounding like some inebriated death rock band wandering through a graveyard of broken clocks, and then that murky, soundtrack-like sound returns on "Shades Over The Mere", with more distant Tangerine Dream-esque synths droning over heavy mechanical rhythms, those deranged vocals waaaaaay off in the distance, everything wrapped in a thick fog of tape hiss and low-fi corrosion, but still strangely pretty and haunting beneath all of the sonic slime. The rest of the songs are similarly delirious, "Sylvan Old Enchanter" drifting on waves of buried synth and deformed black metal guitar, washed out and bleary as it transforms into a wash of gorgeous organ-drift, like something out of a Hammer Horror film drenched in lysergic acid, followed by the ghostly ambience, strange melodic singing and plodding drums that almost sounds like a more stripped-down, minimal version of black psych weirdoes Yoga; that's followed by "The Meadow Reapers (A Field Recording)", which is pretty much just that, a stretch of minimal environmental sound flecked with strange nocturnal cries, mysterious rumblings, bits of ominous warbling synth and distant voices, everything slightly skewed and otherworldly.
The final track "Emanations From Beneath Far Hills, Beyond Far Moons", though, is closer to the sort of weird black ambience heard on older Emit releases like The Dark Bleeding Gods and the excellent Abortions collection, a dimly lit, murky wash of metallic resonance, soft shimmery pulsations of cymbal-like reverberations, these sounds coalescing in the blackness into strange, chiming, half-formed melodies. After awhile, mysterious percussive sounds begin to appear and disappear, soft ghostly knockings that drift up like transmissions from beyond the grave as the track slowly fades into total and utter darkness.
A must-hear for anyone into the murky surrealistic blackness of artists like Reverorum ib Malacht (a band that has shared members with Emit in the past), Yoga, Occultation, Uno Actu, Utarm, and Dapnom, Spectre is now available from Crucial Blast as a digital album and on CD in digipack packaging featuring evocative, all-new artwork.









click on the images to enlarge

LIMITED EDITION ART ZINE $7.98

Anyone who has been paying attention to the more experimental fringes of the black / death / doom metal underground in recent years has no doubt encountered the bizarre visions of the Industrie Chimère Noire. The nom de plume of Québécois illustrator and graphic designer Joce, the Industrie has produced a striking body of work since the latter half of the aughts, first coming to the attention of many in the extreme metal scene through his twisted, nightmarish artwork for Australian avant-garde death metal cult Portal. Since then, Joce has gone on to illustrate and design a plethora of releases on labels like Profound Lore, Sepulchral Productions and Choking Hazard, producing artwork for a myriad of skull-rupturing metal/noise artists that include Fistula, Utlagr, Wormlust, Unearthly Trance, Column Of Heaven, Yoga, A.M.S.G. and Actuary, as well as developing a distinct and recognizable style of line-art illustration that has become almost synonymous with certain strains of über-bizarro death/black metal.
Dans L'oeil du Mort is the first published collection of artwork from Joce and the Industrie Chimère Noire. Released as part of Crucial Blast's ongoing art-zine series that focuses on lesser-known artists on the fringes of extreme metal / occult / horror / surrealism, Dans L'oeil du Mort features an array of artwork that stretches back to the Industrie's origins in 2007. A number of album art pieces are featured here in detail, as are several previously unpublished images that appear here for the first time ever. The thirty-plus macabre visions found within these pages range from Joce's signature black-ink illustrations for bands like Portal, Nekrasov and Fistula, to more abstract experiments in manipulated photography, digital illustration, and old-school collage work. All of this stuff is possessed with a distinctive, morbid atmosphere: monochrome scenes of ancient Gallic graveyards and mottled funerary monuments; ghastly Lovecraftian nightmares of ultra-violent parasitic infection, sexually-charged tentacled monstrosities and corpulent forms in the throes of extreme mutation; snazzy industrial-influenced collage art polluted with vintage images of devil-worship; intricately rendered occult sigils and macabre panels influenced by antique woodcut engravings; gruesome digital manipulations of arachnid horror; and ghoulish full-color watercolor pieces like that found on the Unearthly Trance / The Endless Blockade split album, which seem to radiate an almost folkloric feel. While the work featured in this publication showcase a number of different techniques, all of this material is connected through a common underlying atmosphere of morbidity and mutation that has become Joce's calling card. Through his scenes of ravenous, fecund spider-demons, desolate cemeteries, seething bacterial horrors and arctic devil worship, Joce produces a kaleidoscopic collection of nightmares and mysteries in a uniquely expressionistic manner. At times, it seems to intersect the raw visual aesthetics of 80's-era death metal and industrial music with the deranged monstrosities and vile surrealism found in 70's-era underground horror comics like Insect Fear, bathing his images in ectoplasmic deformity and malodorous rot.
Released in a limited printing of two hundred hand-numbered copies, this art zine comes with a set of vinyl stickers and a pair of 1" badges featuring more imagery from Industrie Chimère Noire.









click on the images to enlarge

LIMITED EDITION ART ZINE $6.98

Like many of the obscure underground artists that I try to document here at Crucial Blast, I first stumbled across Cody Spence Drasser's grisly surrealistic artwork by way of his musical projects. I had been digging around online for information on his releases a while back, as I wanted to stock a couple of 'em in the Crucial Blast catalog,; in recent years, Drasser has been busy with the dark ambient/noise project Caulbearer, which combines elements of classic isolationist ambient with bursts of incendiary electronics and dark kosmische drones to create expansive sound-fields of blackened industrial drift. It was then, while looking for more information on Drasser's recordings, that I came across a website dedicated specifically to the artwork that he has been producing over the past two decades. A couple of clicks later, and I found myself devouring a host of horrific images and tenebrous tableaux seemingly retched forth from some ghastly dreamworld. I was staring into the pulsating, chitinous black heart of the Vomitous Mass.
Long before he began floating out into the chthonic ether with Caulbearer, Drasser's involvement in the extreme music underground was born in the blood-soaked charnel pits of early 90s death metal. As the guitarist for the short-lived New York death metal band Afterbirth, Drasser helped to produce a couple of demos of weird, filthy sewercrush during the band's brief run, including the 1994 tape Psychopathic Embryotomy. That demo would go on to gain a cult following among fans of old-school death metal for its strange, murky atmosphere and ultra-heavy sound, which has been acclaimed by some as a precursor to the whole "slam death" thing that would grow in popularity later in the decade with bands like Devourment and Internal Bleeding (and even lead the band to recently reform after nearly twenty years in order to record new material). And at the same time that Drasser was crunching out riffs in Afterbirth, he was also beginning to produce his own visual artwork fueled by all of that sonic carnage, developing a distinct style that seemed to be inspired by a conflux of HR Giger's surrealistic biomechanical visions, the otherworldly album art of artists like Dan Seagrave, Away and Andreas Marschall, and the more bizarre fringes of horror comics art belched forth from the bowels of late 80s magazines like Gore Shriek. Drowning his grey matter in the cacophony of early death metal, Drasser began to work under the name "Vomitous Mass Graphics", scrawling out an array of surreal, morbid images charged with raw, ultra-violent energy. These pieces had a similar look and feel as the crude abattoir fantasies that you would find splattered across many of the death metal demo covers of the day, but Drasser's work often headed into even more bizarre realms of oneiric depravity.
Released as part of Crucial Blast's ongoing art zine series focusing on little-known artists on the fringes of extreme metal / occult / horror / surrealism, this new publication collects much of the grotesque artwork that Drasser produced under the Vomitous Mass name between 1992 and 1999, as well as several full-color collage pieces, fragments of sketchbook ephemera, and a selection of more recent artwork. As you flip through the pages of Vomitous Mass, you'll find detailed black ink illustrations of hideous biological mutations, visions of shambling sentient meat-heaps rendered in sickening pastel hues, furiously scribbled scenes of delirious bio-mechanical chaos, dreamlike landscapes of towering crustacean structures, a smattering of spiny death metal logos and primitive demo cover-style flesh carnage, occult sigils rendered in intricate line art, and more. It also serves as a document of Drasser's evolution as an artist, drawing a line from his early youthful renderings of crude phantasmal violence to his later work that reveals a striking progression in both technique and imagination.
Released in a limited printing of one hundred copies, with a cut-out cover design that sort of resembles those old step-back covers found on horror paperbacks from the 1980's.








click on the images to enlarge
| | | | | | | | | | | | | |
| --- | --- | --- | --- | --- | --- | --- | --- | --- | --- | --- | --- | --- |
| LIMITED EDITION CD $9.98 | | | | | | | | | | | | |
   Few contemporary noise artists have explored the use of scrap metal to the extent that Hal Hutchinson has with his "Factory of Metal Sound" aesthetic. The dense, brutally forceful metalscapes that this UK noisemaker has been creating in recent years follows in a tradition of metal manipulation previously examined by Japanese noisician K2 and Canadian artist Alan Bloor (aka Knurl), but Hutchinson uses a unique approach to the way he assembles and layers his recordings of chains, pipes, sheet metal, metal barrels, and other metallic objects being smashed and dragged and beaten. What began as a cacophony of skull-scraping clatter becomes transformed into something much more complex, as his "Factory" method re-combines and blends these sounds together into a strangely structured colossus of entropic industrial pandemonium. Known previously for his forays into harsh noise and death industrial with the projects like Execution Support Act, Pollutive Static, Meatgrinder, Hutchinson's current direction moves into a truly industrial realm of sound, totally devoted to the sheer physicality of metal colliding against metal, and recent releases from Hutchinson on Freak Animal Records and Unrest Productions have produced some of the most compelling scrap-metal noisescapes to appear in recent years.
    With the new full length collection Wreckage Installations And Metalworks, Hutchinson delivers seven tracks of these immense noisescapes and blasts of orchestrated machine-shop annihilation. It's intensely abrasive, somewhat comparable to Molekular Terrorism-era K2, but stripped down to the sound of pure metal; attentive listening yields surprising results, as there's a haunting, undefinable element to these recordings heard in the ghostly groan of metal appearing beneath the more abrasive layers of crashing junk scrap. These repetitive scraping tones almost seem to take on an eerie accidental melodic quality, as the mountains of scrap metal and heavy chains slowly shift and crumble around you, forming into subliminal patterns as the tracks unfold. The album is divided into two sections: the first, Wreckage Installation I-III, consists of longer, fifteen minute-plus studies in heavily layered, oppressive scrap-metal noise, the sound dense and detailed, layer upon layer of scraping, banging metal piled on top of each other to create this grim factory-noise symphony, with a massive undercurrent of low-end noise rumbling in the depths of the mix. These tracks sound absolutely crushing when played through a set of high quality speakers, and maximum volume truly reveals the amount of depth and intricacy that exists in these sprawling, seething industrial noisescapes. The second half of the album consists of a series of shorter, more chaotic exercises in junk-metal obliteration titled Metalwork Installation I-IV, these recordings featuring a less structured and noisier sound, each one a ceaseless maelstrom of experimental metalblast, thunderous avalanches of random scrap metal and tectonic bass rumble compacted into five minutes chunks of sound.
    Along with the CD, Wreckage Installations includes a booklet with liner notes from Hutchinson that examine his creative process behind these recordings, and a set of six double-sided black and white photo prints depicting Hutchinson's stark, high-contrast images of corroded, hulking factory equipment. Released as part of the Crucial Blaze Series.




click on the images to enlarge
COMING FEBRUARY 3RD 2015 FROM CRUCIAL BLAST

For nearly a decade, Dutch avant-black/doom entity Gnaw Their Tongues -- named after a particularly evocative passage from the Book Of Revelation -- has been infecting the underground with a uniquely disturbing brand of chaotic heaviness. Fusing together malevolent, rumbling doom with rabid, noise-damaged aggression and blasts of fearsome orchestral power and industrial pandemonium, and draping these lurching, hellish dirges in an oppressive atmosphere thick with horror and despair, the intensely nightmarish music of Gnaw Their Tongues defies easy categorization. The sum of all Gnaw Their Tongues's construction and execution is the work of sole architect and madman, Mories, also known for other destructive output with Cloak of Altering, Pyriphlegethon, De Magia Veterum, Aderlating, Mors Sonat, Pompidou, Dimlit Hate Cellar and others.

Before the release of the band's Crucial Blast debut An Epiphanic Vomiting Of Blood in 2007, Gnaw Their Tongues crawled into the black metal/industrial underground via a number of ultra-limited EPs which quickly went out of print, and are now sought after by fans of the band's abject blackened horror. Collected Atrocities 2005-2008 is a new double CD anthology that gathers together essential, out-of-print early recordings from the band that span the first three years of Gnaw Their Tongues's existence, compiling the tracks from the Preferring Human Skin Over Animal Fur, Horse Drawn Hearse and For All Slaves... A Song Of False Hope EPs, as well as the material from the Static Hymnal compilation, and other rarities from the bowels of the Gnaw Their Tongues archive.






CRUCIAL BLAST WEBSTORE: NEW ARRIVALS FOR SATURDAY, NOVEMBER 29TH 2014

Greetings to all you record collectors, necro-addicts, noise fiends and sonic weirdos - I hope you're comfortably navigating the onset of winter and the slow ongoing collapse of Western civilization. We've got some terrific new releases and older obscurities on this week's new arrivals list to help feed your ears as the days continue to dim.

The featured release on this week's new releases list is the latest from American doomdeath duo Encoffination, III - Hear Me, O' Death (Sing Thou Wretched Choirs); while the album has received its share of criticism from some reviewers for its shambling, deadzone ambience and perceived lack of cohesive riffs, I just can't stop listening to this goddamn disc. I can't think of any other recent album that has managed to create an atmosphere of rot and ruin quite like this, and it seems as if the band's sound has putrefied considerably since their last album, evolving into a kind of rumbling mortuary murk. The closest anyone has come to this in recent memory was Grave Upheaval's self-titled debut from last year, though the sounds are quite different from one another. Polluting their crawling, corrupted heaviness with warped demonic choirs, morbid funerary pipe organs and emaciated guitar melodies, the duo of Elektrokutioner and Ghoat succeed in their goal of creating a ritualistic death-meditation with III, producing an intensely oppressive album of unique droning doom/death that I ended up having to post as this week's featured new release.

Also of note on this new arrivals list is a new Crucial Blast release, the new CD release of Emit's Spectre Music Of An Antiquary, the first new release from this long running UK black/noise/ambient outfit in years, delivering a haunting mixture of creepy Abruptumesque weirdness, creeping synthesizers straight out of a Fabio Frizzi score, and eerie field recordings that capture glimpses of an unseen shadow-world. This release features all of the material that had appeared on the previous cassette release that came out on Glorious North, but also includes additional, all-new material exclusive to this release.

And as always, there's an immense list of new additions to the shop. For you underground metal zine addicts, we've got another hefty new issue of The Convivial Hermit (#7), one of the best black metal/neo-folk/experimental music magazines being published right now in the US - along with that latest issue, we also have restocks of a number of previous issues of Hermit, all highly recommended for anyone obsessed with the undercurrents of the black metal underground.

There's been a lot more death metal filling the C-Blast office than usual this Fall, thanks to a bunch of recent reissues from some of our all-time favorite avant-death bands: first and foremost, the three LP series of demo reissues from legendary death metal visionaries Gorguts has absolutely dominated the turntable over the past few weeks, each record an attractively designed piece featuring demo material that leads all the way up to Gorguts's classic Obscura; we also finally got the new double disc collection from Finnish death metal weirdos Demilich in stock, a recent cassette release featuring the murky, nightmarish death metal of Ritual Chamber, another project from Numinas (Krohm, Vetus Obscurum, Infester, Evoken), and both LP, CD and tape versions of Nightfell's killer recent album of atmospheric deathcrust, Living Ever Mourn.

As usual, we've picked up a swarm of killer avant/offbeat black metal releases for your perusal, ranging from the progressive blackened sounds of Epitimia and Katatonia side-project Diabolical Masquerade, to the folk-flecked depressive doom of Bann's now out-of-print Antiochia EP, the ultra low-fi mausoleum anthems of Black Cilice's Summoning The Night, and the pagan no-fi violence of Equinox's Of Blade And Graal cassette. We now have the stunning new album from Nuclearhammer in stock, Serpentine Hermetic Lucifer, a double LP of violent black/death chaos laced with morbid electronic pulsations, as well as restocks of Wyqm's ripping black n' roll EP Negative Of The Mountain and the experimental darkness of Wyqm's split LP with Ukrainian loner Moloch; there's a pair of new split 7"s featuring USBM legend Krieg, one teamed up with recent tour mates Wolvhammer, the other paired up with another legend of American black metal, Leviathan; there's the recent new LP of mutant punk-fueled black metal violence from Harassor, Into Unknown Depths, and another recent offering of exquisite blackened misery from Vardan, Enjoy Of Deep Sadness; we've got the new LP reissue of the first demo from Harvest Gulgaltha, showcasing the band's doom-laden brand of chaotic black metal, and the new Carnal Altar cassette from bestial black-thrash weirdo Jhesu Masturbator, featuring the maniacal mind behind Lucifers Foreskin; and even more avant blackened heaviness from French "dodecatonic black metallers" Void Paradigm, the synth-drenched cosmic black doom of Trube's Zone Of Alienation, and a restock of the ripping split CD between blackened hardcore duo Ives and demented necro-jazz dronebeasts Amort. We've got recent new albums from San Fran avant black metal oddballs Mamaleek (He Never Said A Mumblin Word) and the depressive black metal project Mortualia featuring members of Horna (Blood Of The Hermit), along with some terrific recent releases from Ajna Offensive, Mortuus's long awaited new album of philosophical black metal Grape Of The Vine and the various versions of Reverorum Ib Malacht's hallucinatory De Mysteriis Dom Christi released on CD and cassette.

Did I mention that it's Nondor Nevai week here at the Blast? We've raided the vault at Nevai's black fortress and returned with seven different vinyl records from this blast-prog maniac's back catalog; all issued in small runs of just a couple hundred copies each, we now stock everything from the blistering avant noisecore of his M.N.D.L.S.B.L.S.T.N.G. outfit and the bestial experimental blurr of Nekrocidal Killdeath to the extreme No Wave pandemonium of the DMT Rok + Sonata "The Arrested", the blackened gothic blast of Overshadower Kommand's Three Tocattas... (Or) Kolder Than Heaven, the heavy Beefheartian delirium of Nayk'd Ayres, and the "klassikill" horror of Nevai_Nonet's String Oktet In A. All brilliant blasts of outsider delirium, and all completely insane.

From the industrial side, we've got some seriously heavy new offerings from the likes of Gnawed, the Midwestern death industrialist returning with new album Feign And Cloak that continues to explore a grueling, heavily distorted vision of mechanical horror; and a real rarity that we scored from one of our European suppliers, the long out-of-print album Graveyard Disturbances from Enoch, the horror-synth duo of Killjoy (Necrophagia) and Mirai (Sigh) that sees these underground metal legends producing their own warped version of the sort of vintage Italian horror electronic soundtracks pioneered by Claudio Simonetti and Fabio Frizzi. We also have the new LP reissue of Alberich's monstrous industrial techno/power electronics manifesto NATO-Uniformen, and Bacchanal's bizarre Satanic electro-industrial ritual Purity Through Darkness; a crushing split Lp featuring Japanese industrial legend Dissecting Table paired with the Portuguese tribal/industrial/sludge duo Sektor 304; and even more Sektor 304, via a pair of CD releases that the band recently put out through their own New Approach imprint, Communiphones and Live Reaction. There's a number of other recent new offerings from the always-great Malignant Records as well, including the latest album Closure from one of the best Swedish death industrial outfits in existence, IRM; the debut album Starving The Fires from the blackened noise group Teeth Engraved With The Names Of The Dead; and a new CD reissue of the stunning collaboration between NYC death-synth master Theologian and Finnish industrialists Strom.EC, Hubrizine. We also have extremely limited quantities of the two recent LP reissues of 80s-era material from the cult Japanese industrial project Nord, LSD and NG Tapes, both fantastic exercises in Bianchi-level industrial desolation.

Doom addicts will want to check out the three new vinyl reissues from UK deathdoom legends My Dying Bride that Peaceville recently released, heavyweight gatefold editions of The Dreadful Hours, The Light At The End Of The World and the band's late-90's experimental doom opus 34.788 Complete, as well as a vinyl release of All Is Sorrow from Bay Area band Catapult The Dead, delivering this newer band's interesting mix of apocalyptic sludge and atmospheric organ. Even more abrasive are new releases from some of the best names in noise rock, starting with the phenomenal new album from legends Today Is The Day, Animal Mother, easily the best thing the band has done in years, and continuing through the latest LP from Unsane offshoot Cutthroats 9, Dissent, a seriously heavy slab of blues-damaged sludge rock. We also have new stuff from newer bands like Drunk Dad and their pissed-off Pacific Northwest style slugfest Ripper Killer, a restock of the self-titled debut from drum/bass duo Zeus! that introduced us to their crazed Italian prog/noise rock, a recent LP from Brainbombs-worshipping outfit Nearly Dead that may be one of the vilest records on this week's list, some mean-spirited hardcore/pigfuck violence from Deep Creeps's self-titled cassette, and The Swan King's new album Last So Long featuring more of the Chicago band's brand of sludgy post-hardcore.

The machines have belched forth some great new stuff from the blackened industrial zone, too: there's a cool new album from experimental Polish black metallers Beyond Life, Blackened Sky, and a self-titled tape from Midwestern black industrial project Shadowmass; a restock of Hypsiphrone's And The Void Shall Pierce Their Eyes CD that delivers a horrific Gnaw Their Tongues-esque racket, and the new, long-awaited album Ascending The Solarthrone from avant black/industrial/ambient duo Empire Auriga that is easily the most gorgeous thing I've ever heard on Moribund. And there's more stuff from industrial metal gods Godflesh, as well as a killer new vinyl reissue of early recordings from the cult Bay Area industro-sludge outfit Depressor...

And there's all kinds of other great new stuff we've gotten in, from the a trio of recent discs from UK speedcore demon Yudlugar that include mini-album Vhemt and the collaborative albums with NUH and Sadistic Hate, to the latest album of Teutonic prog-thrash from the mighty Mekong Delta; crushing dark psych albums from Bong side-project Haikai No Ku (Ultra High Dimensionality), the grimy krautrock-influenced acid punk of Joules's self-titled cassette and the latest album taste My Sword Of Understanding from Finnish avant drone metallers Opium Warlords; and a pair of recent releases from Japanese noisegrind duo Sete Star Sept that will rip your face off, one a split 7" with Brazilian noise punks New York Against The Belzebu that is already sold out from the label, the other a 12" titled All Is Wrong that pairs up an out of print tape from a couple of years ago with a crazed "remix" that sounds like Derek Bailey gone noisecore...

As always, that's just the beginning. There's much more mutant heavy music and misanthropic art to be found on our shelves and in our bins...keep reading below to check out all of the strange and extreme new music, film, and art that's included in this week's new arrivals list.

Go to the Crucial Blast Webstore to check out our list of new arrivals...